Quick Laptop General Service
A general service of a Loptop includes an overall checkup for defects and solutions to avoid future malfunctioning. In general service the laptop is disassembled and each part is cleaned and checked for defects individually. Dust being a major cause of laptop issues is removed even form areas that are hard to reach via various techniques. In order to enhance the durability of any equipment general service is required. For e.g Laptop heat sinks are checked and necessary measures are taken to avoid overheating of laptops. In addition to this with Installation/Reinstllation of Genuine Operation System and Drivers your Laptop performance will be As Good As New.
Contact Service Center @ 9900143144.
Some of our few services offered below:
Laptop service center in Bangalore
Laptop Mother Board replacement in Bangalore
Laptop Mother Board BGA Chip Replacements
Laptop LCD & LED Screen replacement
Laptop Keyboard Replacement
Laptop Hard Disk Replacement
Laptop Mother Board chip level repairs
Laptop DVD Writer Replacement
Laptop Motherboard Repair & Services
Laptop Data Recovery and Data Transfer
Laptop Memory Upgrade
Laptop Power Jack Repair and Replacement
Laptop Operating System Install image Recovery
Laptop Hinge repair, LCD Back panel replacement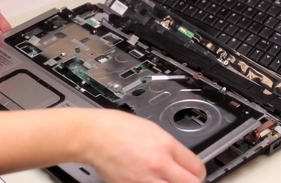 We also deal with original genuine laptop Adapters and Batteries with 1year direct laborartory. All kind of laptop & Notebook repairs & services from Hiflex Technology Services Bangalore. laptop service center in Bangalore, laptop repair in Bangalore. laptop services in Bangalore Jayanagar , laptop motherboard repair in Bangalore, Service center in bangalore.
Our Services